A project that perhaps some Gibson purists will frown upon, but the goal is to take somewhat abused Gibson RD bass and give it a bit of a makeover – borrowing the color scheme from 1960's Thunderbirds and hardware from more recent 'birds.
The RD is in good cosmetic shape, however it has suffered a serious decapitation (as opposed to a mild decapitation ? "its only a flesh wound"??) in the past and slightly glue-heavy repair – which nonetheless does appear very solid. I am considering regluing it, but only if there some sign of weakness or the headstock angle is off (doesn't appear to be). The frets also appear to have been leveled with a belt sander or other inappropriately industrial grinding instrument – and are really ground down to nothing in some spots – so the neck will require a complete refret.
OK – "purists" – get ready to cringe.
The plan is to defret the neck, make sure the board is level, and refret it. The body will be sanded down – leaving the clear finish as a sealer coat. The body will be routed for a pair of Thunderbird pickups (black), and then the entire instrument, except for the fretboard and face of the headstock, will be painted Ember Red – a little used custom color from Gibson's colorful mid and late 60s. Ember Red is similar to Fender's Fiesta Red, but with a stronger, deeper red tint as opposed to Fender's more salmon tint. I have only seen the color in a few pictures of instruments ( an SG and I want to say a Melodymaker ?), but it was an option available for an additional $25 around 1966. The color is actually a 1958 Edsel color.
A new pickguard will also be cut – we haven't discussed yet whether it should be three-ply white or black – white would look more 60s.
Anyway – feel free to verbally accost me – but I'm doing it regardless !! And .. I will have enough Ember Red left for a few more paint jobs afterward – my '66 NR T-bird is considering getting in line for that …. maybe someone wants their BachBird in Ember Red too … ????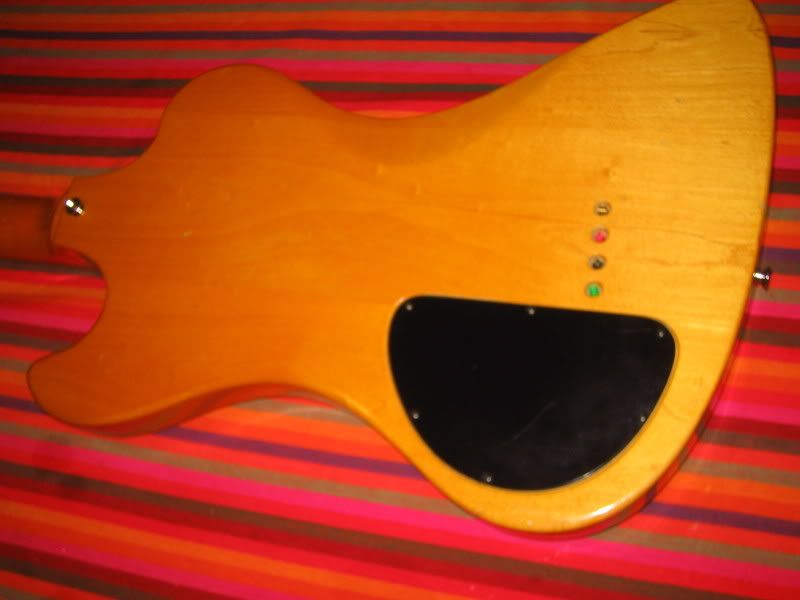 Might it end up looking a little like this bass ….. which appears to be something like .. Ember Red …
I have heard that the RD Bass was inspired by Entwistle to some degree – but that he hated what Gibson came up with.